Name
Description
Cat#
Pricings
Quantity
Catalogue number
pro-2655
Synonyms
Protein Marker, Protein Ladder, Protein Standard, Mw Marker, Mw ladder, Mw Standard
Description
ProSpec 8-Protein marker containing 15. 20, 25, 35, 50, 70,100 & 120 kDa. The recombinant proteins are produced in E.Coli is and purified by proprietary chromatographic techniques.
Source
Physical Appearance
Sterile Filtered blue solution.
Formulation
ProSpec 8-protein marker solution (0.5ug/ul/protein) contains 12mM Tris-HCl pH-6.8, 5% glycerol, 0.4% SDS 2.88mM 2-mercaptoethanol & 0.02% bromophenol blue.
Stability
Store at 4°C if entire vial will be used within 2-4 weeks. Store, frozen at -20°C for longer periods of time.
Avoid multiple freeze-thaw cycles.
Molecular Weight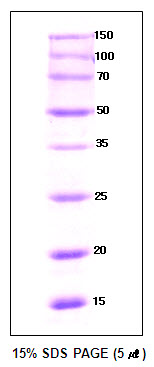 Use 5ul per lane. There is no need to heat before use. Each Protein conc. is 0.5ug/ul.
Safety Data Sheet
Usage
ProSpec's products are furnished for LABORATORY RESEARCH USE ONLY. The product may not be used as drugs, agricultural or pesticidal products, food additives or household chemicals.
Back to Top