Ordering - PO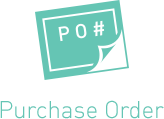 What is a Purchase Order?
Purchase Order (PO) is a commercial document that is issued by the buyer to the seller, indicating types, quantities, and agreed prices for products or services which the seller will provide to the buyer.
Click Purchase Order sample.
If you do not have a formal PO form:
Click Purchase Order Form
Fill all the required order details.
You can either Fax or Email us the form.
Purchase Orders (PO) must include the following:
Company/Institute letter head
Purchase order number
Recipient first name & last name
Email address
Phone number
Shipping address
Billing address
Product name
Product size
Product catalog number
Number of vials
Product price
Shipping price
Currency ($, €, £)


If you wish to ship using your FedEx or DHL courier account, state the courier type & # in the PO.

Note: Additional $20 handling fee is charged for liquid proteins shipped with ice packs & Styrofoam box.
Purchase Order (PO) ordering methods:
Please FAX or e-mail the Purchase Order.
USA: Fax 1-(800)-805-6531 (Toll free USA/Canada)
International: Fax +972-8-9460534
E-mail: order@prospecbio.com
Purchase Order (PO) Payment methods:
*All purchase orders should be paid within net 30 days from date of invoice.
Credit Card:

Credit card holder name, type, #, & expiry date.

Bank Transfer €uro or GBP:

Beneficiary: ProSpec-Tany Technogene Ltd.
Account number: 636636
Swift #: POALILIT
IBAN#: IL83-0126-1500-0000-0636-636
Bank Name: Bank Hapoalim
Bank Address: Bank code 12, Branch number 615
Rehovot Branch , 179 Herzel St. Rehovot 76110, Israel

Bank Transfer/ACH, U$D only:

Beneficiary: ProSpec-Tany Technogene Ltd.
Account number: 0109154501
Swift #: POALUS33
ABA#:026008866
Bank Name: Bank Hapoalim B.M. New York
Bank Address: 1177 Avenue of Americas, New York
NY 10036, U.S.A




DUNS ID #: 53-348-5355
Israeli Tax ID #: 513175976